Address Assembly 2017 coming up! Part one interview with Celina Dalrymple
In anticipation for this year's upcoming Address Assembly, happening at The Ellis Building,1024 Main Street in Vancouver, May 24 to 28, 2017, we've done a two part one-on-one with our very own Celina Dalrymple. Here's a glimpse about the pieces displayed at Address 2015 and 2016… we'll let your imagination run wild with this as to what is up her sleeve for this year's show!
Bossalina Lowrider from ADDRESS 2015
When you were first at the drawing table coming up with the design concept for the Bossalina, how did you feel it compared to what you were seeing in the market in 2015? Were you intending to create something innovative and unseen before in the Vancouver market?
Celina: We had just moved the shop to North Vancouver and my partner Jason and I were spending more time in the forest and discovering the landscapes of our new area. Proportion, lines and balance are something we both focus on, Jason is an artist as well and we both see things in different ways. We wanted to build something that was West Coast inspired, the driftwood was locally sourced from the shore here in North Vancouver. This piece is constructed using 100% natural products, latex foam, feather pouch back cushions and of course the driftwood in the arm. Comfort was our main focus, we wanted something deep and lounge worthy. We had been seeing a trend of low, modern and deep sleek furniture. A lot of our projects at that time had homes that were large open-concept loft like spaces, absolutely gorgeous, and we thought a sofa like this would look amazing in them.
Preliminary sketches and design concept for the Bossalina.
During the design process, did you have any difficulties or challenges you had to overcome?
Celina: It was all fun. We spent a lot of time experimenting with the proportions of the golden ratio on paper. Seeing it go from paper into large scale is always fascinating. Jason is a very technical hand drafter so he had it perfectly drawn up and exploded it from there. The Bossalina is a very heavy piece in the way that it is constructed, the driftwood arm adds a lot of weight which makes it extremely difficult to transport. If we were to redesign it, I would definitely try to find a way to make it lighter. This is definitely a one off piece because of the driftwood arm, making it a hard piece to brand or reproduce.
Hand drafted drawing by Jason Coons, experimenting with proportions using the Golden Ratio concept.
How do you think the Bossalina compares to today's market? Do you think it is a concept a client would seek out today or would you have to propose it?
Celina: I think this piece would definitely need to be proposed, as soon as people see it they are interested and inquire but, I've never had anyone approach me with such a unique oddball project like this design. I think that in Vancouver a lot of people follow trends that they see and there is nothing else like this out there. There is a lot of driftwood, more organic and live edge furniture in Vancouver but not mixed with upholstery like this piece. Because of that, a lot of people have difficulty visualizing it in their space and imagining how everything comes together.
Address Assembly 2015 featuring the Bossalina on display, photo by Bright Photography
What was the feedback at the show in 2015?
Celina: There was a lot of attraction, oohhs and ahhhs but not a lot of serious inquires about having it in their space.
Do you feel that this piece helped established the scope of your design ability?
Celina: It showcased the fact that we can think outside of the box , push boundaries and are not your run of the mill manufacturer.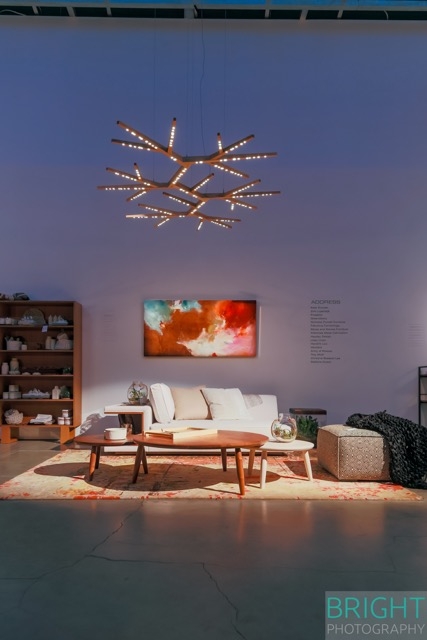 Check back in next week for part two on the Mid Century sofa displayed at Address Assembly 2016!